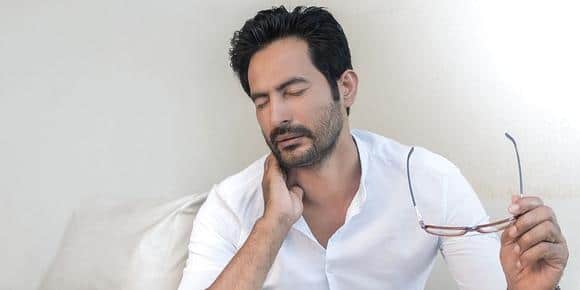 In this time of the pandemic, we are spending a lot of time in front of the computer. Zoom has helped us to stay connected, so we can work from home. But there are hidden dangers due to the fact that a home office is rarely as ergonomic as the one you have at work. This is especially true if you never worked from home before the pandemic and had to set something up on the fly to keep your job. Here are some tips to help you avoid the shoulder strain that many remote workers are now experiencing.
7 Ways to Stay Centered When Working from Home During COVID-19
Here are seven of the best things that you can do to keep your spine centered and avoid shoulder and neck strain while working online and attending all of your meetings via videoconference.
Maintain 90-degree angles – Your joints do their best at right angles, so be sure that your chair and desk setup allows you to sit with your hips and knees at 90 degrees. The height of your keyboard should also allow you to bend your elbows at 90 degrees.
Screen height – Make sure your screens are always at eye-level. If this is not possible, slightly above is better than slightly below.
Don't hunch – Resist the urge to hunch while seated in front of your computer or mobile device. Keeping the screen and keyboard at the right heights will help.
Get a larger monitor – You don't want to hunch because you have to get closer to the screen to see. Alternatively, you may just want to switch from working in front of a tablet to working at your laptop or desktop computer. Or, you can use an HDMI cable to connect your laptop to your TV for a better view.
Use a headset – This will stop you from leaning toward your device to hear or be heard during meetings (you also won't look as silly as you might when leaning in every time you talk).
See the eye doctor – If you find yourself leaning in to see the screen, you may need to update your prescription lenses.
Use a postural rest every 30 minutes – Bruegger's stretch, for example, is a good way to stretch without taking a lot of time out from work.
Get the Chiropractic Assistance You Need in Fairfax, VA
Ward Chiropractic and Rehabilitation is here for you during the pandemic and beyond to help you keep your spine and joints in proper alignment. Call us today at 703.672.1661 and click here for our COVID-19 update.