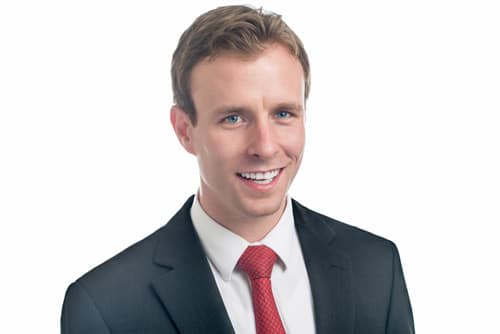 Meet Your Fairfax Chiropractor
Dr. Kevin P. Ward is the founder of Ward Chiropractic and Rehabilitation. He has practiced in Fairfax, VA since 2011 and has been named a Top Chiropractor by Northern Virginia Magazine. In addition to traditional chiropractic techniques, Dr. Ward utilizes a state of the art soft tissue system/movement based massage technique that treats problems with muscles, tendons, ligaments, fascia, and nerves. As a Certified Strength and Conditioning Specialist, Dr. Ward strives to provide rapid relief and return to full function.
Dr. Ward received his Doctor of Chiropractic degree from Logan University, St. Louis, MO, graduating third in his class. He was one of two students in his class selected for a clinical internship at Scott Air Force Base, IL. He is a graduate of Penn State's Schreyer Honors College and completed a Masters of Sports Science and Rehabilitation internship with Georgetown University's Department of Sports Performance where he worked exclusively with Division One Athletes.
Your Fairfax Chiropractor
Get to Know Dr. Kevin Ward
Dr. Ward has completed postgraduate training through the Motion Palpation Institute and is a certified MPI doctor http://www.motionpalpation.org/virgina/.  As part of this training Dr. Ward studied sports medicine, pediatrics, pregnancy and Webster Technique.  As a father of two young children, Dr. Ward takes pride in delivering safe and effective chiropractic care to children and pregnant patients.
Dr. Ward is an active member of the Fairfax and George Mason University Community.  He has been cited as an industry expert in GMU's Broadside.  He was featured on the LiveLifeBig Podcast for chiropractic care for motor vehicle accident injuries: LiveLifeBig Podcast Highlight: Chiropractic Medicine.
Dr. Ward is a member of BNI Business Forum of Fairfax (past president) and a former member of the Rotary Club of Fairfax. He is also an instructor at the National Personal Training Institute. As an accomplished student athlete wrestler and Eagle Scout, Dr. Ward's personal experiences enhance his professional expertise and sincere caring regarding his patients' wellness.
Peer Reviewed Publications:
Tepe, R., Smith, D., Ward, K.P., Ellis, J. &Emlet, J. (2011). A single blind randomized controlled trial of the effects of spinal manipulative therapy on Fitts Law performance. Association of Chiropractic Colleges Conference.
Ward, K.P. (2010). Horizontal integration of the basic sciences in the chiropractic curriculum. Journal of Chiropractic Education, 24, 194.
Kaye, M.P. & Ward, K.P. (2010).Participant-Related Differences in High School Athletes' Moral Behavior Athletic Insight.12, http://www.athleticinsight.com/Vol12Iss1/Feature.htm.
Ward, K.P., &Kretchmar, R.S. (2008). An integrated approach to an undergraduate kinesiology curriculum: A case study about stalling in wrestling. Journal of Physical Education, Recreation, and Dance, 79, 40-43.
Ward, K.P. (2007). Perceived legitimacy of unethical sport situations among high school athletes (Bachelors thesis). Penn State University, University Park, PA.