Frequently Asked Questions
What's Wrong with My Neck?
Diagnosing the cause of neck pain and stiffness requires a comprehensive consultation and examination. Patients should not assume their pain is the same condition their family member had, and thus what helped their family member will help them. Every neck problem is unique and different. So too are the treatments they require.
Dr. Ward is highly trained in the diagnosis and treatment of soft tissue injuries and abnormalities common to the neck, spine and shoulders. If you are experiencing a neck or other health related ailment, Dr. Ward can provide you with effective professional relief. If your condition is outside of the chiropractic scope or would be more appropriately managed by another health care specialist, Dr. Ward will quickly make the necessary referral.
Will My Insurance Pay for My Neck Pain Treatment?
Ward Chiropractic and Rehabilitation participates with and accepts most major health, medical, worker's compensation and auto insurances. Our staff would be happy to verify your benefits so that you fully understand your coverage. You can provide your insurance information over the phone or via e-mail.
Will I Need an X-Ray, MRI, CT Scan
Each case is evaluated on an individual basis. Many issues can be treated without imaging or outside testing. If you have had prior imaging tests, please bring the results to your first appointment. Common cases when imaging is usually ordered before starting treatment include trauma, chronic pain, pain at night, suspected disc issues, radiating pain, tingling and numbness.
Will You Work with Other Doctors and Healthcare Providers I Have Seen for this Same Issue?
Absolutely. At Ward Chiropractic and Rehabilitation we work closely with our medial colleagues. We have developed relationships with pain management, sports medicine, orthopedic and primary care physicians in Fairfax. We send detailed notes to referring physicians and speak with our referral partners directly in complex cases.
How Long will Treatment Take?
Our goal is to treat and release you in as few treatments as possible. The number of treatments varies depending on the condition. Some conditions can be resolved in one treatment and other conditions require 24 treatments. Most conditions fall between these two extremes. After your first visit the doctor will provide you with a customized treatment plan.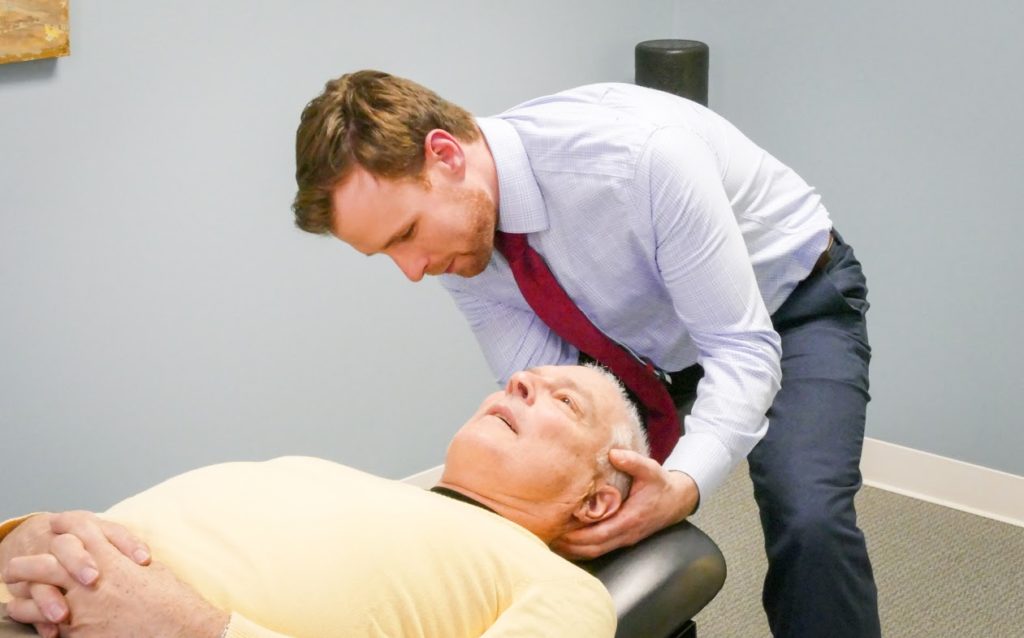 We pride ourselves in our caring and long-term relationships we develop with our patients, so schedule an appointment today. We look forward to seeing you!
How do I Know if Treatment is Right for Me?
We recognize that everyone is not a candidate for our treatment. We offer free 15 minutes consultations that enable you to meet with the doctor to discuss possible treatment options.
How Long are Treatment Sessions?
Treatment time ranges between 15 minutes and 50 minutes. After your first visit the doctor will let you know approximately how long each treatment will take.
Is the Treatment Painful?
No, typically the treatments feel good. Many people notice instant relief immediately after their treatments. Most look forward to returning for subsequent treatments. Patients experiencing severe bouts of neck pain, may notice some discomfort for obvious reasons, however, for most patients this is not the case.
Is Chiropractic and Rehabilitation Treatment Dangerous?
Chiropractic treatment, including adjustments and rehabilitation, is extremely safe when performed by chiropractors. According to a 1993 Ontario Ministry of Health commissioned study, Chiropractic is among the safest treatments for most neck problems. There are some rare risks to treatment which the doctor will review with you at your first appointment.
I have a "Hunch Back," Can You Help Me?
"Hunch back" is a common postural distortion. An increased curve in the upper back and a forward displacement of the head is known as upper crossed syndrome. Our treatment can help restore your normal posture through adjustments and corrective rehabilitation.
I've had Neck Surgery, but I'm Still in Pain, Can you Help?
Sorry to hear that you are still in pain. Unfortunately, many patients continue to experience symptoms after surgery. Our gentle treatments are ideal for patients with a history of surgery. If you have pre or post-surgical x-rays, MRIs or CT scans, please bring them to your first appointment.
Can you Help my Child with Neck Pain?
Chiropractic and rehabilitation therapy is safe and effective for infants through elderly individuals. Dr. Ward has specialized training with youth, high school and college athletes. We communicate with athletic trainers and team physicians throughout the treatment process.
Do I have to Keep Coming for Neck for Treatments Forever?
Our goal is to release you in as few treatments as possible. We provide home exercises to speed your recovery. Some patients, especially athletes, do choose to have periodic treatments after their symptoms resolve. This is certainly not a requirement.
Why Would My Medical Doctor Tell me to Avoid Chiropractic and Rehabilitation Treatment?
Most modern physicians recommend chiropractic care for neck pain. Unfortunately, some healthcare providers, are not well educated on chiropractic treatment. If you have been advised to avoid chiropractic care, we recommend you meet with Dr. Ward to discuss any specific concerns. Dr. Ward can initiate a conference call with you and your doctor to explain the treatment approach and answer any questions from you or your doctor.