Neck pillows are an item that travelers commonly use on long journeys. But are they actually good for your neck? We're going to give you some tips to help you get the best neck pillow. Then we will explain how to use it properly so you don't accidentally make neck soreness worse.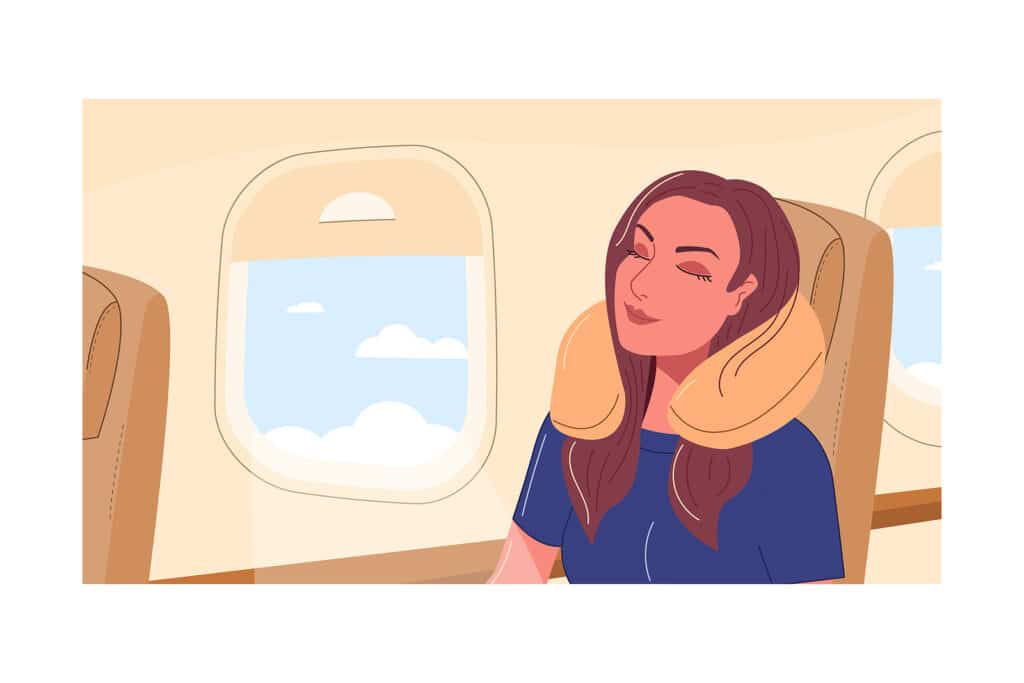 How to Purchase a Neck Pillow Before Your Next Flight
The number one mistake that people make when getting a neck pillow for travel is buying it online. Every neck pillow offers a different amount of support, and everyone's body is shaped a little differently. Thus, there is no way to know if a neck pillow is right for you without trying it on in the store before making a purchase. With that in mind, here are a couple of things to look for:
Lateral Bend – The neck pillow must provide enough cushion to limit the amount of movement of your neck from side to side. This sort of side-to-side movement that can occur during turbulence could lead to soreness.
Neck Rotation – The other cause for concern is the neck rotating from side to side. A plane is less likely to cause this type of movement as opposed to a car, but it's still good to ensure your neck pillow provides this type of support so you can use it for all of your travel needs.
Should You Use Your Neck Pillow to Sleep on Long-haul Flights?
On a longer flight, perhaps international, you may intend to sleep on the plane. Since most of us can't afford to fly business class and actually be able to lie down, you need to know the best position for your neck when sleeping. So should you use your neck pillow?
The short answer is no. The neck pillow is designed to limit the movement of your head. This is great while you're awake. But while you are sleeping, it could result in tight muscles. The best course of action is to try to sleep with your head straight back in a neutral position. It might take some time, but if you are tired enough, you should still be able to sleep.
Give Your Neck the Support It Needs
When you return from your travels, Ward Chiropractic & Rehabilitation will be here to help you combat any residual neck soreness. Give us a call today at 703.672.1661, or you can request an appointment using our website.